The Deposit form summarizes payments received from the state Medicaid office.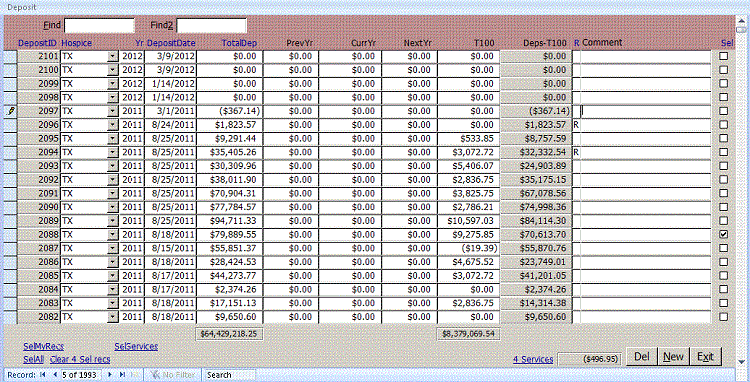 To filter the recordset, enter a DepositID, Hospice, Yr or Comment. Enter SEL to find records where Sel is checked. A second find box lets you perform more complex searches such as where Hospice is Austin and Yr=2012. Click SelAll to select all records in the recordset or Clear x Sel recs to clear all the records shown in the recordset (not the entire Deposit table). Click SelMyRecs to select the records that you updated last. Click a blue column head link, DepositID, Hospice, Yr, DepositDate, TotalDep or R (Reconciled) to sort ascending by that column. Click the link again to sort descending. The blue x Services link in the lower right of the form shows the number of records in the Service table that are related to a deposit as you scroll through the records. The number to the right of the link is the total amount of services in the Service table that have this DepositID. It should match the Deps-T100. Click the link to see the servuces. Click Sel Services to select services in the Service table that are related to each Sel deposit record. Regular users can't change a deposit once the R (Reconciled) field has been set to R.

Close



Our medical application lets the user track all deposits in Dallas, Fort Worth, Houston, San Antonio and El Paso, Texas. From Allen, Texas we offer a medical database system that allows users to track deposit ID for each deposit in Arlington, Garland, Irving, Plano and Carrollton. An Access medical system database tracks patients and the services rendered to them in Amarillo, Lubbock, Laredo and Frisco, TX. The medical program is similar to the medical app that tracks inventory of tests performed in Collin County, Denton County and Dallas County, Texas. Our Microsoft Access medical database tracks all deposits to all the companies as well as tracking patients and the services rendered to them. We have a medical system with a database that tracks deposits in Houston, Corpus Christi, El Paso, Laredo and Lubbock, TX. The Access medical application makes it easier for the user to track all deposits to the correct companies in Texas. The medical database tracks the companies and the depsoits made to them in the DFW metroplex. Our Access medical app allows users to find and reconcile all deposits in Arlington, Garland, Irving, Denton, Plano and Frisco, TX.