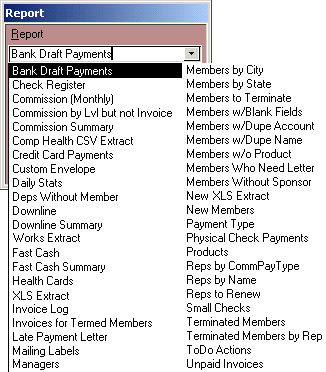 Reports Menu. Includes the following reports: Bank Draft Payments, Check Register, Monthly Commission Detail, Commission by Level for five levels plus manager, director and executive director level, Commission Summary, Excel Extract, Credit Card Payments, Custom Envelopes, Daily Status, MLM Downline, Downline Summary, Fast Cash on first month commission, Fast Cash Summary, Health Cards, Invoice Log, Late Payment Letters, Mailing Labels, Managers Report, Members by City, Members by State, Members to Terminate, Members Who Need Letter, New Members, Members by Payment Type, Physical Check Payments, Products, Representatives by Commission Pay Type, Marketing Reps by Name, Reps to Renew, Small Checks for later processing, Terminated Members, Terminated Members by Rep and Unpaid Invoices.

Additional reports improve data integrity and accountability. They make troubleshooting a breeze: Dependents Without Member, Members with Blank Fields, Members w/Duplicate Account Info, Members with Dupe Name, Members Without Product, Members Without Sponsor.

You can view or print each report to any Windows printer, or export to CSV, DBF, RTF, TXT or XLS format.

Commission Level report

To Do report for upcoming tasks

Close